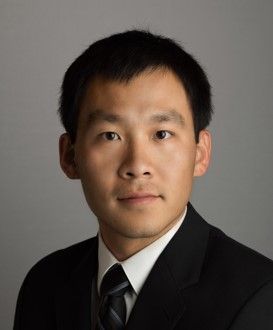 Prof. Peter Qiang Liu
Jan. 2017 - present Assistant Professor at UB EE
Sep. 2015 - Jan. 2017 Postdoc at Sandia National Labs
Oct. 2012 - Sep. 2015 Postdoc at ETH Zurich
Ph.D. 2012 Princeton University
M.A. 2009 Princeton University
B.E. 2007 Tsinghua University
Office: 230J Davis Hall, University at Buffalo
Office Phone: +1 716-645-1037
Email: pqliu@buffalo.edu
Short Biography:
Dr. Peter Qiang Liu joined University at Buffalo Electrical Engineering in January 2017 after completing a postdoctoral researcher appointment at Sandia National Laboratories, working on metamaterials-enhanced light-matter interactions in semiconductors and strongly correlated electron materials. Previous to that, he was appointed as a postdoctoral research fellow at the Institute for Quantum Electronics and the Department of Physics at ETH Zurich (October 2012 to September 2015). His work there focused on developing graphene-based tunable THz and MIR plasmonic and metamaterial structures for various device applications.
Dr. Liu obtained his Ph.D. in Electrical Engineering from Princeton University in September 2012. His thesis work focused on developing high-performance Quantum Cascade lasers employing novel quantum and laser cavity designs. He received his B.E. in Electronic Engineering with highest honor from Tsinghua University, Beijing, in 2007.
Selected Honors and Awards:
NSF CAREER Award February 2019
Best Poster Award at International School of Photonics 2013 (Cortona, Italy) May 2013
Harold W. Dodds Honorific Fellowship 2011 – 2012
Francis Robbins Upton Fellowship 2007 – 2011
Newport Award of Excellence in Photonics May 2011
Outstanding Teaching Assistant Award September 2009
MIRTHE Center Significant Research Contributions Award August 2009
Tsinghua University Highest Honors for Graduate June 2007
Distinguished Graduate in the City of Beijing June 2007
Tsinghua University Outstanding Independent Research Thesis June 2007
Xianglong (Kevin) Miao
Geng Li
Anwesha Palit
Dhananjay Mishra
We always welcome motivated undergraduate students to join our lab and participate in exciting cutting-edge research projects!
Rhea Pearl Fernades (Master)
Jipeng (David) Dai (Master)
Hao Sheng Koay (Undergraduate)
Licheng Xiao (Master)
Yan Zhang (Undergraduate)